How it began: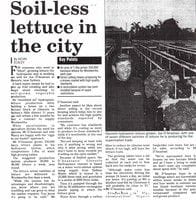 Joe D'Anastasi was a soil growing farmer just like his father before him when a back injury in 1988 led him to investigate hydroponic farming. Joe soon realized this was the perfect choice for his Glenorie home/property for several reasons. The waist high tables allowed him to continue to farm comfortably and the surprising capacity for production in a 1.4 hectare space meant that Joe was able to grow an impressive amount of lettuces, 250, 000 per year to be more precise, and Joe soon secured a place with a major supermarket chain with his boutique, flourishing produce.
Joe's son Robert grew up learning the family business and the father and son team now lead the way in environmentally friendly hydroponic farming.

Our farm: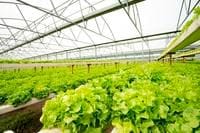 Glenorie Hydroponics prides itself on being a Sydney farm for Sydney tables, delivering lettuces from harvest to shelves in less than 24 hours. The lettuces thrive on a water recirculation system, starting out as seedlings and progressing through the farm in stages until they are harvested at 7 weeks in winter, 4 weeks in summer.
'We are proud to be a Sydney farm supplying fresh, healthy choices for Sydney families every day.'